Notes from SXSW 2000, Part 2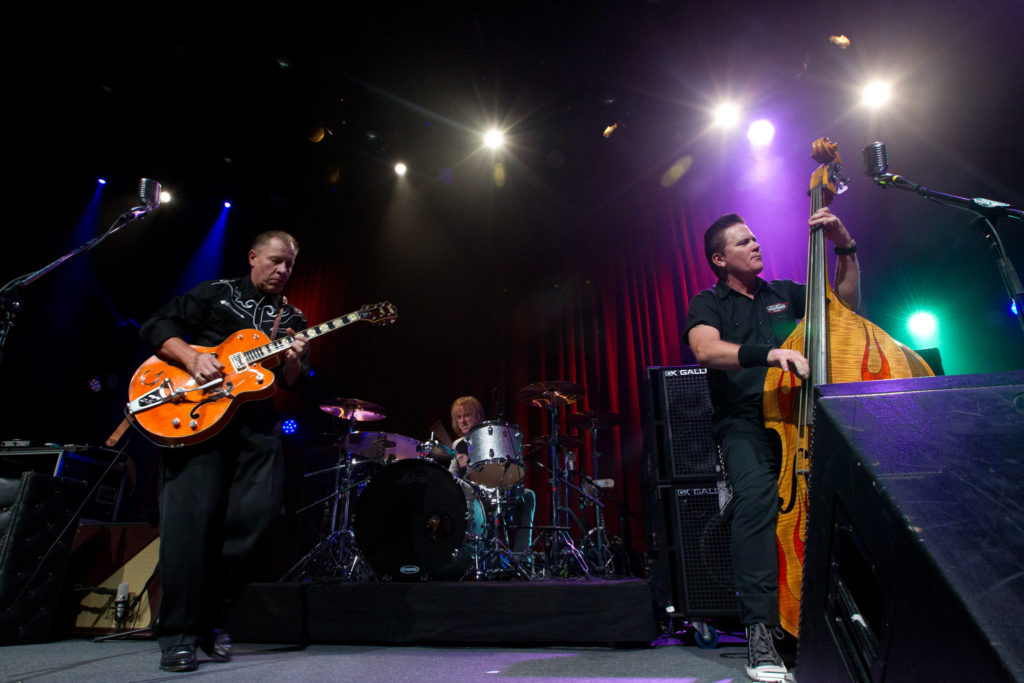 1000 Bands from around the country and world perform in Austin, TX
SXSW 2000: days 3 & 4
Friday
3 pm: Reverend Horton Heat @ Waterloo record store
Went there to do some shopping and meet people. Didn't realize the Rev. was playing until the place got really crowded and he took the stage. Nothing new here, fans of the Reverend1s brand of psyched out rockabilly would only be disappointed by the lack of energy. This may have been due to the time of day.
4:30 pm: Polara @ Fat Tuesday's, Listen.com party
From Minneapolis. Spacey rock. Boring, wasn't really paying attention. Eating free barbeque at the time.
5:30 pm: Beulah @ Listen.com
The band everyone at this party was waiting for, and they didn't disappoint. Very good, tight jangly pop, complete with keyboards, moog, trumpet, and harmonica. At times reminded me of the Replacements, the Beatles, and the Who by way of Neutral Milk Hotel. They were handing out free beer from the stage by sets end, yeah!
9 pm: Upsilon Acrux @ Atomic Caf»
From San Diego. Prog/Math rock instrumental trio. Very good but if you1re looking for a melody you won1t find one here. Like a less melodic Rodan or A Minor Forest. Great drumming. Maybe you could call it free rock (like free jazz but not)?
10 pm: Gluecifer @ Emo's (Sup Pop showcase)
From Oslo, Norway. Gluecifer are certainly a show unto themselves. Wore matching red velvet (velour?) shirts with black pants and white shoes. Oddly enough, the singer sounded a lot like the guy from the Cult. The music was straight up rock n' roll, reminding me of Bullet Lavolta at times. The style and attitude of the band is very much like Rocket From the Crypt. "Shitty City", which featured the guitarist swinging from the rafters and riding around on the bassists shoulders, really got the crowd (pit) going.
11 pm: Murder City Devils @ Emo's (Sub Pop showcase)

From Seattle. Garage-y punk rock. High energy. Pretty good but paled in comparison to Gluecifer. Should have gone on before them.
12 am: Man Scouts of America @ Buffalo Club
From New York. Punk rock circa 1982 but you gotta love 'em. Not only did they have fireworks on stage and flames shooting from their guitars, they were so punk rock that the singer was bleeding from the head inexplicably. We concluded that it must be fake blood, at least we hope it was. We were also hoping that the fireworks would set the tent on fire. While it was highly entertaining, 25 minutes was enough.
1 am: Salaryman @ Atomic Caf»
Champain, Illinois. Alter ego of the Poster Children. They were very electronic (synthesizers and samplers) except for the live drummer. Described as a cross between Poster Children and Kraftwerk. While I didn't hear any Poster Children, the Kraftwerk influence was clear. Hypnotic pulsating beats. Would be even better if you were on drugs. Only band I saw that did an encore besides the Mekons. Also reminded me of Six Finger Satellite, Birthday Party or Gang of Four. One of the best bands I saw overall.
Saturday
2 pm: Bloodshot records party @ Pok-e-Jo's (barbeque joint) Went there to see Sally Timms and Neko Case, neither of whom ended up playing. Watched a couple of Americana bands whose names I don1t remember (I spent more time in line for the bathroom. Damn these places that only have one stall!). Then went inside to have some barbeque.
4:30 pm: At The Drive-In @ Emo's
From El Paso, Texas. Had to wait in line but luckily got in before the band went on. Very good emo-core. Singer and guitarist skinny young kids with huge afros worthy of the MC5. Had great energy. Acrobatics were actually involved! Melodic post-hardcore with Fugazi influence.
6 pm: Tristeza @ Club Deville (In Sound party) Instrumental space rock, not bad but boring. If I weren't looking at them I would have thought it was just the house music playing over the PA.
7 pm: American Analog Set @ In Sound party
Mellow indie pop. Don't have much to say here. We only stayed for one song.
9 pm: Didn't see a band because we went out for Chinese food.
10 pm: Scared of Chaka @ Flamingo Cantina
From Albuquerque, NM. Garage-y punk rock. Energetic but not great, or very notable. The set deteriorated when they started throwing in cheesy covers like Zep's "Whole Lotta Love", etc.
11 pm: Pop Unknown @ Iron Cactus
From Austin. Drummer of the defunct Mineral is in this band. Not bad, melodic emo-rock. However, the singer was annoying (cross between Bush and Chameleons UK) and the lyrics were really bad relationship blather. They1re ok if you can ignore the lyrics. Reminded me of the Boys Life from Kansas.
12 am: Acid King @ Emo's (Mans Ruin showcase)
From San Francisco. Heaviest band I've seen in a while. As a disclaimer of sorts, the guitarist says, "hey we're stoner rock man, we can't be expected to be in tune," before they start playing. Slow and sludgy, they sounded like Blue Cheer meets Kyuss. Rock and roll man! Had to leave before the end to meet my friends (who in the meantime had bad experiences with Johnny Dowd and Silver Scooter).
1 am: Mekons @ Antone's (Billions Corporation showcase)
Waited in a long line thinking we'd never get in but we made it in time. The Mekons didn't disappoint the fans, playing a diverse enough set from their 20-year repertoire to please the packed house. In between, song banter turned very saucy (literally) with the main topic being urine. I tired of it (the banter, which went on longer than some songs) very quickly. Their sound is very Irish bar rock for those who don't know, with political lyrics like a rallying cry. Also had a reggae beat going in some songs, reminiscent of the Clash. John Langford brought Neko Case on stage for a rousing sing-along and some more off-color banter. Played their encore well after 2 am, while the club was closing around them.
There were (mostly local) bands playing Sunday night but I had to leave at 9 am that morning so Mekons were the last band I saw. I had a great time overall and saw many excellent performances. Special thanks to Andrew Magilow for letting me stay with him. Check out www.splendidezine.com. The end. Whew!


– Margot Edwards