MiMFL's 1st NYC Fundraiser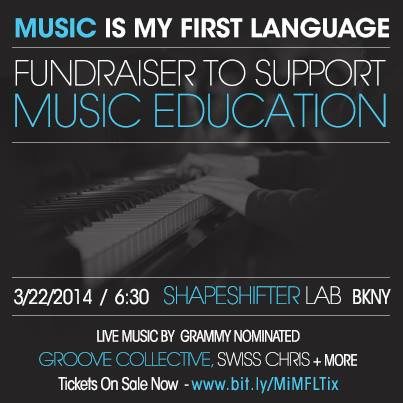 Music is My First Language has announced it will be holding it's first New York fundraiser on March 22nd, 2014. The event will be held at Shapeshifter Lab, an event and performance space in Brooklyn starting at 6:30 pm. MiMFL is dedicated to inspiring positive social change through sustainable music education and empowerment programs to benefit the social-economic and musically disenfranchised.
The organization's goal is to raise at least $25,000.
The evening will feature a live performance by Grammy-nominated jazz-fusion ensemble Groove Collective, known for their eclectic mix of R&B, funk, Latin, and Afrobeat; Jay Rodriguez, one of MiMFL's founding members is also a lead educator in MiMFL's program: and Swiss Chris, renowned drummer and educator, will also present a performance of Mali percussion. Other acts will include local kids and special surprise guests.